Notes from the Garden

Benet Kinghorn, SWAT Team Leader
Joined the Team: May 2006
Day-to-day activities:
Day-to-day activities seem to be something that changes regularly in my position. As part of the SWAT team, we are tasked with quick strike jobs. This includes everything from garden enhancements, planting a few trees, to changing a stone pathway.
Garden Guru from:
I graduated from the University of Nebraska Lincoln with degrees in landscape design and environmental studies.
Favorite plant:
The tupelo tree is one of my all-time favorites. The beauty and wonder of seeing one of the oldest specimens in the country, in Boston, alongside my Dad will always be a memory I associate with this particular plant.
Where did you get your green thumb?
I got my green thumb from watching and learning about the plant world from my Dad and all of the other people that have turned Kinghorn Gardens into what it is today.
What does the Purple Polo mean to you?
Family, ever since I was a little kid I remember being around all the individuals that make the Purple Polo a known brand in our community. They taught me how to bring our gardens to life.
At home garden:
I have never been as much of a gardener at home. When I'm at home I tend to use my free time to enjoy my other hobbies.
Most memorable trip:
My senior year of college I went on a road trip with some of my closest friends to Utah over spring break. We shared many memories hiking through four national parks and other parks in the area.
Favorite food:
I am always up for eating a nice medium rare burger with a side of tater tots.
Hobbies:
Golf and attending sporting events
Favorite Outdoor Activity:
Any outdoor activity on the water. I love to go boating, swimming, tubing, kayaking or doing other maritime activities with friends. Being on the water has always been very relaxing and peaceful for me.
Favorite part of a garden:
I always have enjoyed the secret hideaway/destination spots in the garden. These special spaces in one's garden offer a place of serenity with nature for an individual. The mystery and intrigue of finding these spots in the garden is sometimes just as fun as the enjoyment of being in the space.
One thing you can't live without:
I could not live without the getaway sports provide for me. I am a sports nut and enjoy watching games almost daily. If I am not watching a game I am listening to sports radio or reading up about the latest news.
Least favorite garden critter:
Squirrels, or what I like to call "tree rats".
Gotta-have-it-garden tool:
When planting a large perennial garden, small augers are a must have garden tool. They help to make the digging process easier and faster.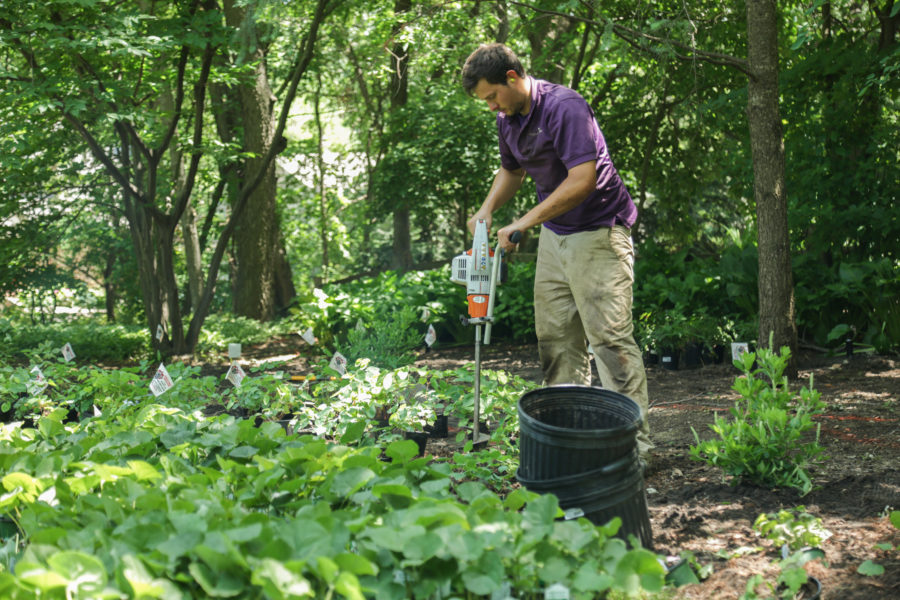 If you were a tree what tree would you be?
I would want to be a big leaf linden. Even though they are a favorite food for the Japanese beetles, I would want to bring joy to other kids as they did for me as a young boy. I remember spending countless hours climbing the lindens in our front yard.
Fictional Garden you'd like to visit:
Endor, would be a garden/ecosystem that I would want to see. It would also be fun to have Ewokswoks give me a tour of their planet.
Ideal way to spend a weekend?
My ideal weekend would consist of a golf round with my dad, spending time on the lake, and grilling out with family and friends.
Favorite book?
Tale of Two Cities by Charles Dickens
Favorite gardening quote:
 "Garden as though you will live forever" William Kent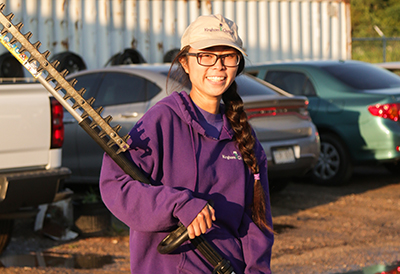 Mika McPherson, Gardener Joined the Team: March 2017 Day-to-day activities: My day-to-day includes…
Read Note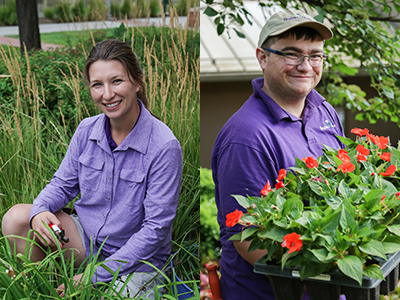 Lindsey Moore, Head Gardener I first heard of Kinghorn Gardens when I was a senior…
Read Note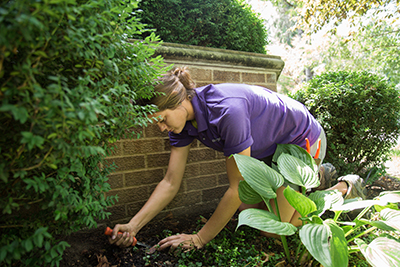 Nate Huse, Horticultural Designer I moved to a "big city", or at least what I…
Read Note